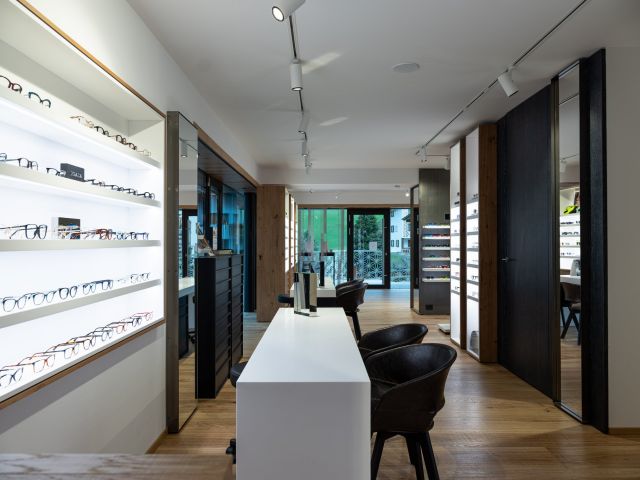 Don't miss a single detail of our Dolomites
Sight and above all visual comfort are of great importance for everyday life, just think of the tiring hours in front of the computer or while driving. It therefore becomes right to give it the necessary attention. Also why should you lose all the details of our beloved Dolomites here in Corvara in Badia. In our optometry studio, eye exams are carried out updated to the best standards, and advanced materials are used to be able to meet all needs. Not only the definition with which we can see is important. More and more we are understanding how essential it is to have a good pair of lenses also as protection from ultraviolet rays and harmful blue light. There are many lens construction materials and many anti-reflective treatments, each with their own protection and performance qualities. Our task is to give you the appropriate advice to be able to choose the best solution for your visual well-being.
Prescription glasses for sport in Alta Badia
The best way to further increase your performance.
Our eyewear shop in Corvara in Badia is specialized in the optical-sport sector. In fact, more and more sportsmen choose our center in Corvara in Badia every year to be able to get the right performance from their visual equipment. Lens technology has now reached a point where even wraparound eyeglasses become as comfortable as non-graduated sunglasses. Furthermore, the materials we use protect the eyes from both ultraviolet light and harmful blue light as well as from shocks. Being in contact with many sportsmen, over the years made us gain considerable experience with which we will be able to advise you on the best visual solution. You will find the ideal glasses and lenses for cycling in our Dolomites or for skiing from Alta Badia around the Sella Group. In any case, there is a solution for various sports, from ski goggles to wraparound glasses for cycling or running.
Multifocal: a single pair of glasses for a dual function
Technology meets visual comfort.
Multifocal glasses are an excellent solution for those who want to see well up close and far with just one pair of glasses. In this way there will be no need to constantly change glasses during the day. The evolution of the progressive lenses that we offer also no longer causes the sense of seasickness of the lenses of the past. Many people are unaware that there are a variety of progressive lens designs. To list a few, there are specific lenses for the first presbyopes, progressive lenses for near or medium distance work as well as the classic progressive lenses for seeing well from far and near. Thanks to sophisticated lens centering equipment, the use of high quality multifocal lenses and 40 years of experience we are able to guarantee the best solution in terms of visual acuity and above all comfort. In addition, many of the lenses we use have a guarantee of adaptation: if you don't adapt to the glasses, we will change the lenses for you at no additional cost within the first month.